Tell us about your experience with entrepreneurship education!
Submitted by: James Ankobia on 2018-09-13 14:34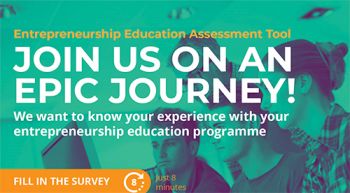 Are you a student of entrepreneurship education or an entrepreneurship educator? The European Commission wants to know about your experience with entrepreneurship education!
The Commission has launched a new project to identify and review different models used to assess entrepreneurship education programmes. This project is called Evaluation of Entrepreneurship Education Programmes in Higher Education Institutions and Centres (EEEPHEIC, pronounced: Epic). 
The EEEPHEIC journey begins with a survey that will form the basis of the design of an online tool that helps educators/students to 'pick' the right kind of programmes, in terms of design, intended impact, target group or content of programme.
To find our more or join this epic journey by taking this 8-minute survey go to epic.ecorys.com! There are two surveys: one for educators, and one for students. 
The results of the project will be an online toolkit and methodology that will be made available and disseminated across Europe for anyone to use. The ultimate aim of the EEEPHEIC project is to emancipate European citizens, stimulate skills, attitude and mind-set development towards a flexible and pro-active stance to entrepreneurial thinking and behaviour. 
Help us to make this project epic by letting your voice be heard and filling in the survey! Check out the project website for more information!