HEInnovate report shows Netherlands HEIs lead in creating value for economy and society
Submitted by: James Ankobia on 2018-10-05 14:02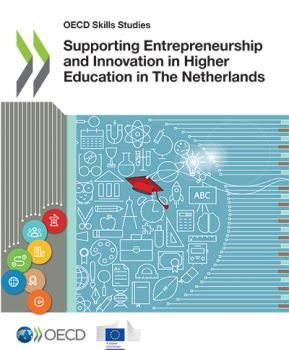 The Netherlands is amongst the leading countries in the EU concerning the capacity of higher education institution (HEIs) to create value for the economy and the society, according to the new OECD and European Commission HEInnovate country review report.
The report, which is now available to download at https://heinnovate.eu/en/resources, illustrates very well the value of public investment in higher education, at a time when public investments are under scrutiny in all countries, and policymakers need to do "better with less".
Amongst various enabling conditions, public policy plays an important role. In particular the "Valorisation Programme" of the Netherlands has helped creating relevant structures, institutions and support functions to help HEIs create functional linkages with the economy (start-ups and patents) and society (e.g. city deals). 
As part of the review process, a team of international experts under the leadership of the OECD have visited nine Dutch Universities and Universities of Applied Sciences: Amsterdam University of Applied Sciences (HvA), University of Amsterdam (UvA), Vrije Universiteit Amsterdam (VUA), HAN UAS, Maastricht University, Rotterdam Erasmus University, Rotterdam UAS, Twente University, Utrecht University.
The report was presented by Minister Ingrid van Engelshoven; OECD Deputy Secretary-General Mari Kiviniemi; and Antoaneta Angelova-Krasteva, Director for Innovation, International Cooperation and Sport in the Directorate-General for Education, Culture, Youth and Sport of the European Commission. 
To keep the momentum and spur HEIs capacity to generate more economic and societal value, the OECD/EC report proposes several recommendations to both the higher education institutions and to the Dutch authorities, notably:
to guarantee the sustainability of funding and structures that have been created to support the Valorisation Programme;
to do more research on the impact of entrepreneurship education on students and start-ups; 
to support university staff to participate in valorisation activities and recognise this participation and performance in job descriptions, promotion procedures etc. As part of a collective action that can promote a cultural shift within the higher education institution;
to enhance participation of students in valorisation activities and support them in managing study requirements and pursuing a start-up.