HEInnovate webinar summary – Embedding SDGs in HE practices
The first webinar after the summer break explored the ways in which higher education institutions are working towards achieving the Sustainable Development Goals (SDGs), through which activities they are embedding the SDGs in their practices and how sustainability links with higher education innovation.
The webinar was be moderated by Fiona Godsman, a member of the HEInnovate expert group and it attracted an international audience of over 150 who contributed to the panel discussion with questions and comments.
The panel discussion engaged:
Isabel Toman, Programme Officer, Sustainable Development, International Association of Universities (IAU), based in Paris at UNESCO. Higher Education and Research for Sustainable Development (HESD) forms one of the four strategic priorities of the Association. Amongst Isabel's tasks at the IAU are the coordination of the IAU Global HESD Cluster, ommunicating with members and partners on HESD, conducting the 3rd IAU HESD Global Survey, and creating content for the HESD Portal, as well as work on related events and publications.
Charles Hopkins, who holds the UNESCO Chair in Reorienting Education towards Sustainability at York University in Toronto, Canada. His experience with Education for Sustainable Development (ESD) at both the local and global levels spans several decades and goes back to co-authoring Chapter 36 in Agenda 21, the first global UN action plan towards sustainable development in 1992.
Helen Balderama, who has 20+ years of experience in international education cooperation with programmes and partnerships in Africa, Asia, Europe and the Americas through her work with UNESCO National Commission Philippines, the Asia-Europe Foundation based in Singapore and higher education institutions in Canada. As Director Global Engagement and Partnerships at York University, Helen leads, facilitates and shepherds York's engagement and cooperation with 300+ partners in 60 countries. The Global Learning Team, within her portfolio, facilitates and supports global and intercultural learning opportunities for York students as academic exchanges, international internships, summer, short-term and virtual programmes.
Patrick Paul Walsh, Professor of International Development Studies in UCD, Dublin.  He is currently a Vice-President for Education and Director of the SDG Academy at UN SDSN. He received a PhD from the LSE in Economics. He has held academic positions in Trinity College Dublin, K.U.  Leuven, Harvard University, and Columbia University. He has also consulted with the United Nations, European Commission, and World Bank. His current research focus is on sustainable development education.
If you want to access the webinar recording, click on the image below. The webinar summary continues below.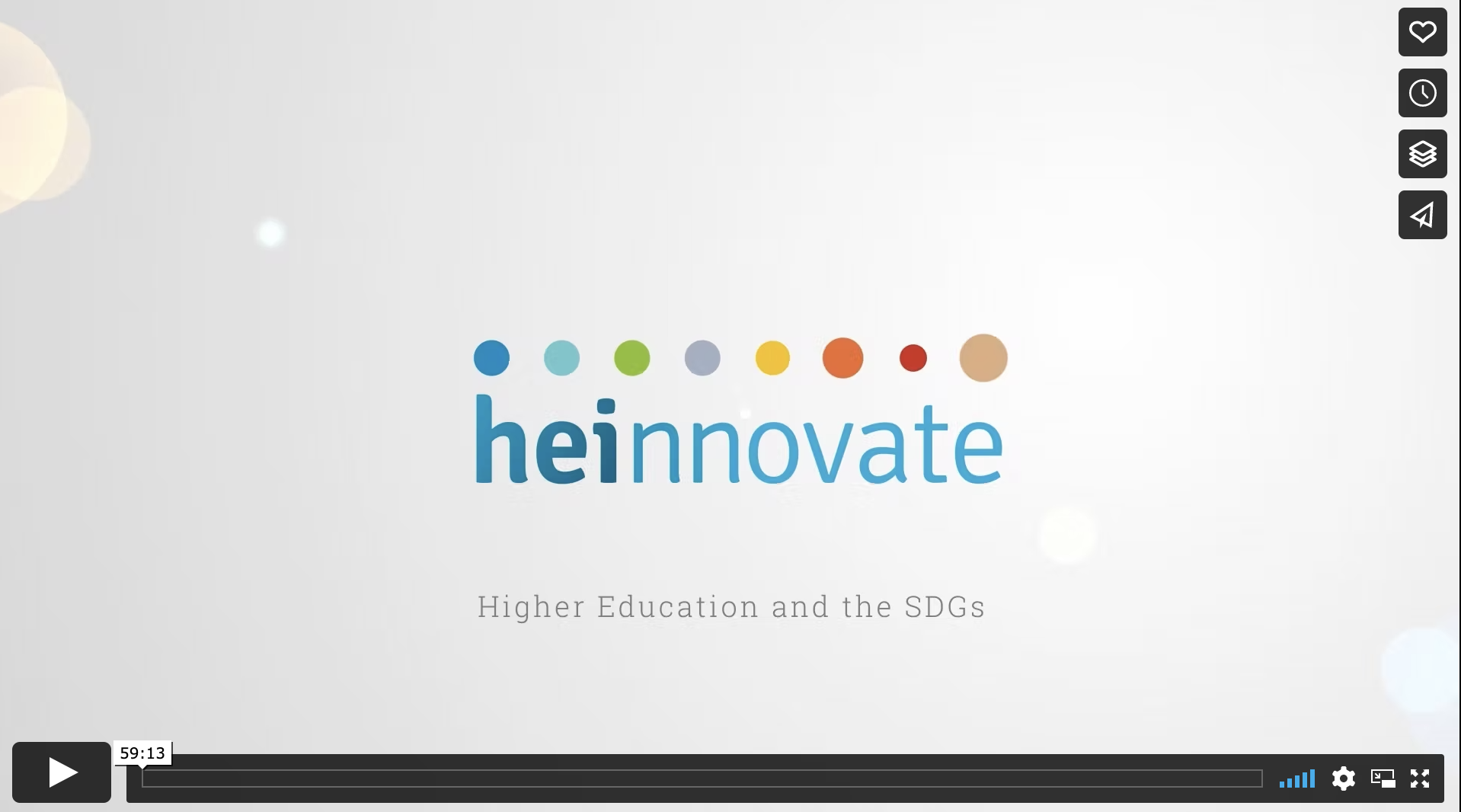 SDGs as a holistic framework for HE
The International Association of Universities (IAU) is a global independent organisation with around 600 institutional members in more than 100 countries around the world. Isabel gave the webinar audience an overview of the activities carried out by IAU in the area of Higher Education and Research for Sustainable Development (HESD).
The association facilitates better connection on sustainable development among the members; peer to peer learning is encouraged and IAU has recently launched a survey to collect global evidence on how HEIs work with SDGs and what approaches they use. Each member can keep up to date with the materials developed and the latest events on the organisation's HESD portal. Events and conferences are an important part of IAU's activities to make the case to policymakers for higher education educating the next generation for a more sustainable future.
Isabel shared how more and more HEIs are adopting the SDGs as an applicable and holistic framework. Sustainability is not limited to the environmental aspects; it encompasses the 5 Ps – people, planet, prosperity, peace and partnerships (as outlined in the 2030 Agenda) – and for HE to work with SDGs is a win-win situation as academic institutions share many values and work areas with the framework, starting from the wide reach of the 17 goals as well as the partnership approach.
In relation to the work with sustainability more generally through partnerships, IAU created a network in 2018, the IAU HESD Global Cluster, where a group of HEIs around each SDGs is collaborating in various ways This  cluster counts around 80 institutions and it follows the UNESCO's whole institution approach towards sustainability.. To bring sustainable development in education and research forward, all stakeholders are involved, and leadership is necessary to integrate sustainable development in the institutional priorities.
Isabel noted how HE fits well with the SDG framework as it becomes clear that working on one SDG in particular is not possible. The nature of sustainability is varied and cross-disciplinary and working on one SDG will inevitably lead to connections to other SDGs as well. That is why IAU emphasises the importance of networks and resources for HEIs to put sustainability in action.
In terms of practical tools, Isabel shared a guide for universities to get started with SDGs and reflect on the change that they want to bring about; finally, she shared that there will be a thematic session at the IAU General conference on 25th-28th October specifically on the role that HEIs can play for a more sustainable future.
SDGs at the global and institutional level
Working towards a sustainable future means considering the different levels at which change is possible and actionable. Charles shared with the webinar audience how the global level of working with SDGs can and should interact with the institutional level, which remains, however, separated and that generates questions that need to be addressed.
At the global level, innovation is needed in developing a global perspective on sustainability with the objective to collect evidence of how SDG practice is delivered around the world. Moreover, how is best practice then translated into locally relevant action that institutions can take forward individually?
York University is part of the IAU global cluster, leading on work towards SDG4 on education and Charles shared how, based on the whole institution approach, York built the relationship with the partner universities and became very collegial in discussing different worldviews, meeting and discussing frequently the road for sustainability in education, as well as publishing in collaboration.
Indeed, at the institutional level, the role for HEIs is to be conceptually questioning and critically analysing what sustainability entails, including how is sustainable development taught? How is it researched? Sustain what and for whom? In making an academic plan and answering these questions, institutions can be the living laboratory where the holistic approach of sustainability is implemented.
The whole institution approach consists in recognising the existing expertise, celebrating existing practice and embedding this across disciplines, reaching out to faculty as well as administration and support staff. This is how HEIs can contribute to the change and encourage engagement at different levels and between different perspectives.
Practices to embed SDGs in HE
Linking theory and practice, Helen presented examples of initiatives that Toronto's York University undertakes to incorporate and encourage SDGs in their institution. Helen stressed how the international component is very strong at York University and how this is important to nurture in order to achieve sustainability objectives. York has 300 partners in more than 60 countries and about 20% of their 55,000 student population are international students, coming from almost 180 countries.
In 2020, York University launched an academic plan where it has committed to the challenge of incorporating the SDGs in teaching research, community engagement and outreach. During the pandemic, they launched online and virtual exchanges as well as the Globally Networked Learning (GNL), which is an opportunity to promote innovative pedagogies, incorporate international perspective, promote communication amongst students as well as promoting intercultural and global learning, especially for students who may not otherwise go abroad. Helen shared the impact achieved by GNL between 2020-22 with 900+ students reached, about 40 faculty members participating and 25+ projects implemented through collaborations.
Another initiative is Go Global SDGs in Action Student Challenge, a four-year programme funded by the Federal Government of Canada, which promotes mobility for York students in the next four years, combining mobility with SDGs knowledge building. The design of the project follows four phases: 1) students explore and attend SDG workshops, then we 2) engage students by grouping them together to collaborate on SDG related action projects. 3) Students share their experience in the public sphere; they exemplify to peers from around the world who can attend and see the projects created by the students. Finally, 4) we fund the students experience to go abroad and travel.  
Helen concluded re-stating that the SDGs can be used as a lens for any topic or discipline as the projects and experiences shared confirm. Helen pointed out how the themes guiding York's projects – sustainable and inclusive global learning, local and global community engagement, and connecting the local and global classrooms – will also be the themes of the SOTG Virtual Conference happening in November.
Sustainable education with free and open access resources
In the last presentation of the webinar, Paul shared how innovation in sustainable education starts with open access of education resources. If institutions want to embed and mainstream SDGs across different disciplines and in the institutions, the knowledge around SDGs and sustainable development has to be created, collected, easily accessed and shared among the community to train, teach and learn about sustainability.
Therefore the challenge lies in the need for actual resources and curriculum reform. In the IAU Horizons magazine, Paul describes the Global Knowledge Commons, a practical way to make education resources accessible to everyone while protecting intellectual property. The transformation encompasses all stages of education, from pre-school all the way to university and lifelong learning.
Everyone needs to create new knowledge, technologies and pathways to sustainable development. Sustainability will not be achieved if only the top universities keep the knowledge to themselves, and this is not distributed and shared with other institutions who could then implement/adapt the knowledge to their local context. Given the urgency of the global challenges that need to be collectively tackled, search for academic freedom and independence from other societal actors (e.g. private sector, government) is not the right path. Instead, Paul advised universities to take responsibility in their role as knowledge creators and proactive knowledge exchange spaces that are not confined in campuses. Indeed, Paul advocated a ranking that does not assess universities for the efforts they are doing in relation to the SDGs only, but a ranking that takes into account what universities are doing to actually build capacity in other universities or in corporate, government and civil society regionally and globally.
Focusing on the UNESCO's Open Education Resources Recommendation, Paul and the team of collaborators worked to advance and implement the recommendation to make education open, that is to say through open access of free resources that can be shared and used by everyone at every level of education. Paul described how through various funders and partners involved, they will create a quality standard for starting from the UN Library (then extended to all the libraries in partnership) where syllabus, course content and resources are part of an open repository under a Commons licence; this way, distribution, adaptation and re-use of the materials is possible with the requirement of citation and payment if the resource is used for commercial purposes.
Going against the current highly non-inclusive system where access to knowledge requires a payment and creates inequalities, the innovation presented by Paul is to be applied across the library systems all over the world and in an interoperable way, allowing students to access free resources from the library while protecting intellectual property of resources creators. Paul and the team presented the innovation at the UN Sustainable Science Technology Innovation Forum, as well as the pre-summit in Paris and have recently presented it at the Solutions Day in the United Nations General Assembly TES (transforming education summit).
Paul concluded by sharing how with his colleagues at the SDG Academy, they are already putting into practice what it has been advocated, by providing high quality online and free education courses on all the SDGs areas.
You can find the recording of the HEInnovate webinar here.
Further resources and events:
Meet with the IAU network in Dublin on 28-28 October 2022, https://www.iau-aiu.net/16th-IAU-GENERAL-CONFERENCE-2022
Learn more about the IAU HESD Initiatives, https://www.iau-aiu.net/HESD
York´s SDGs-in-the-Classroom Toolkit, https://www.yorku.ca/unsdgs/toolkit/
York University´s University-wide Academic Plan 2025-25, https://www.yorku.ca/uap2020-25/building-a-better-future/
UNESCO Chair at York University, https://unescochair.info.yorku.ca/
Globally Networked Learning, https://yorkinternational.yorku.ca/gnl/
Sustainable on the Go, https://yorkinternational.yorku.ca/sustainable-on-the-go-conference/
Register for the 2022 Virtual Sustainable on the Go Conference on 17 November 2022, https://yorkinternational.yorku.ca/sotg/
The page of the SDG Academy, https://sdgacademy.org/
IAU Horizons on Leadership for a Sustainable Future – Higher Education and Agenda 2030 and the Sustainable Development Goals, with contributions from HE experts from 25 countries, available here:  https://iau-aiu.net/IMG/pdf/iau_horizons_vol_26_2.pdf
UNESCO OER: https://www.unesco.org/en/communication-information/open-solutions/open-educational-resources
Future of education, https://openstax.org/
Join the launch of the UNESCO Education for Sustainable Development (ESD) for 2030 Global Network on 4 October 2022.